Collection Item
Vito Elektron 2000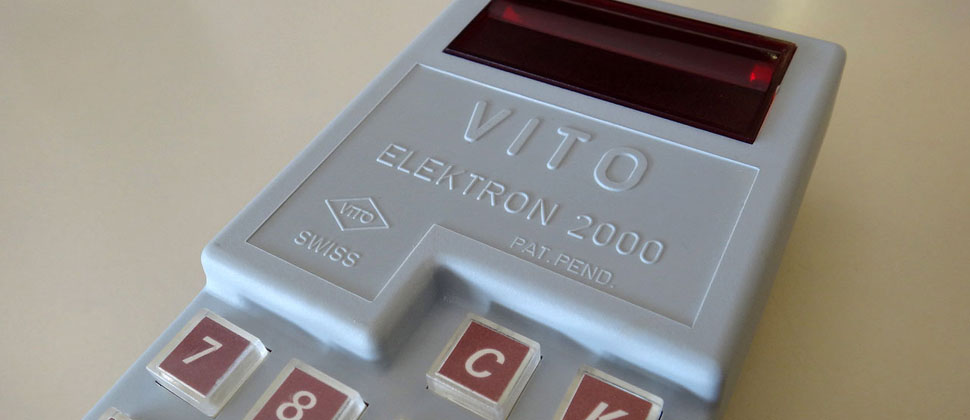 Brand:

Vito.

Model:

Elektron 2000.

Origin:

Switzerland.

Introduction:

1973? This example was built in the second half of 1973, based on datecodes printed on chips and external case.

Type:

Basic portable calculator with LED display.

Functions:

4-Basic function, constant, no memory.

Display:

8 digits plus one special indicator (9 characters) in three blocks of three digit each. The special indicator is used only for negative numbers. This is a true picture from previous owner of my example:
I don't know the overflow indication!


Keyboard:

18 simple keys with spring and interrupt on the main printed circuit. A separate switch for On with batteries, On with adapter and Off.



Main chips:

Main golden chip identified as "ISDC 4902". Five secondary chips from RCA and ITT with datecodes 7322 and 7329. Also 301 and 328 (Week 1 and 28 of 1973?).

Remarks:

This calculator does not seem to be made in Switzerland, rather than, it seems to come from the Soviet era! The design is quite crude and quality of materials seems pretty bad. Please see the photos of the latches needed to close the external case, there is no screw on the case! Unfortunately we do not know other models made by Vito, but probably it is a very low cost calculator! Also strange is the use of two 9-volt batteries, the total voltage at the input of the circuit is 18 volt, more than a regular car!

Size:

5.71 x 2.68 x 1.50 in, 145 x 68 x 38 mm.

Condition:

(9/10) New, unused, minimum marks on base of the external case. Unfortunately is not working, apparently there is a flaw on a chip, sometimes erratic digits appear on the display and the keyboard is not reponding. This failure appeared after few times I've used the calculator normally.

Download:

Original User Manual in German, click here.
Original Garantie, click here.