Collection Item
Sanyo ICC-1681PT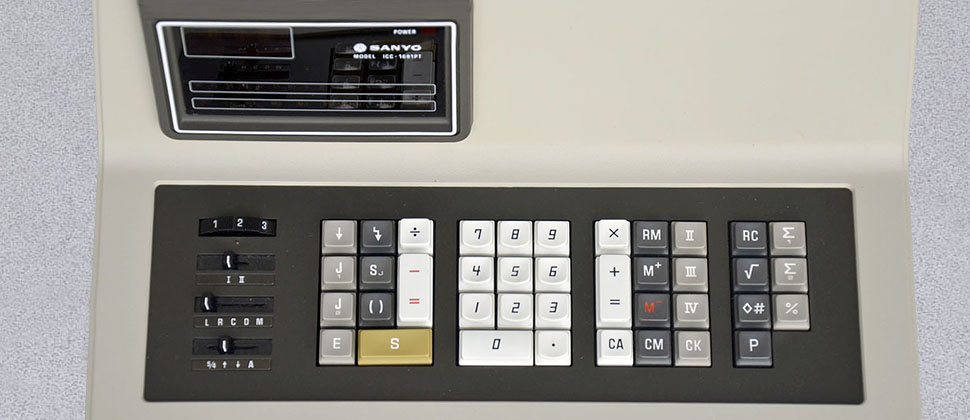 Brand:

Sanyo SACOM.
> Sanyo used the brand name "SACOM" for the Sanyo calculator series in the japanese market.

Model:

ICC-1681PT.

Origin:

Japan.

Introduction:

1970 or 1971. To the present day I didn't found any Showa or standard datecode to estimate the real production date of this calculators.

Type:

Heavy desktop printing programmable calculator.




Logic comments:

Actually I have no user manual, programming guide, technical description or any documentation about this machine so I can't provide information about the usage or the programming model.
If you have or know any document about the ICC-1681PT or the ICC-1682PT calculators please contact me, I have a lot of interest.
All I know is the ICC-1681PT has a capacity of 134 program steps and 8 memories.



Hardware:

This is a very complex and heavy machine. Please observe these images of the base and details of the CPU box.
There is a terrible maze of wiring and, of course, I prefer not to disassemble it...




Keyboard:

The big keyboard has the following keys and switches, I suppose:
- A rotating knob for selecting the number of decimal digits?
- A sliding switch I-II to select program area 1 and 2?
- A sliding switch L-R-C-D-M> to select the operation mode? Load, Run, etc?
- A sliding switch 5/4-↑-↓-A to select the round mode?
- 36 big reed-switches keys, some with labels never seen before!
- 3 toggle-switches Sigma 1, Sigma 2 and Percent on the right for statistical functions.


Sorry, no more info at this moment...



Display:

The display is located on the left front of the machine behind the printer station. Actually, it is not a true display to see the results, instead it is a status panel used basically for programming and execute programs.


On the top left of the panel there is a large 3-digit gas-discharge display, then a big power-on red indicator on the top right and two rows of orange indicators.


The 3-digit display is probably used to show the program step number or the step content.
The middle row has 16 leds indicating the number of digits you enter on the keyboard, they lights up from the right to the left (digits 1 to 16) and actually it is a "column indicator" used in many mechanical calculators of the 50s and 60s but rarely used in electronic calculators.
The lower row has 9 leds to show different status information: Multiply and Divide mode?, Memories 1 to 4? (but I know the machine has 8 memories!), HALT probably indicates the program is paused waiting for user input, OVF for an overflow/underflow error condition and BSY (Busy) when a program or process is running.



Printer:

The printer has 19 digit positions and 2 special (unknown) characters on the right.


When the calculator is on, the printer drum rotates permanently, which is quite noisy and a bit annoying... When you turn off the calculator, the printer drum stops very slowly and continues to spin for about 30 to 40 seconds!. There is a particular mechanism to change the ink ribbon: you must move two latches backwards and then upwards to lift the entire ribbon holder.




Magnetic card reader:

The ICC-1681PT has a magnetic card reader/writer to probably store and recover programs and data.


The card reader rollers are rotating permanently and the card moves from the input slot on the front backward.


The capacity of the card, data type, number of tracks, etc. are unknown...



Remarks:

I was lucky to get these two calculators in unused condition, I paid US$250 both. One calculator had the power cord within the original plastic cover from factory. Because the voltage is regulated at 120v, it is likely that both calculators were originally purchased in the US and then imported to my Country. Both calculators have too close and very low serial numbers: 78100019 and 78100022, the nineteenth and twenty-second example of a production line identified as 781nnnnn. Probably both were manufactured in the same day and almost in the very first day of production!

Unfortunately I have no documentation, as mentioned earlier.



Accesories:

Soft cover for one calculator, paper rolls and original silica gel to protect from moisture.





Size:

15 x 19.3 x 7.9 in, 38 x 49 x 20 cm.
Total weight: 40 lbs, 18 kg. too heavy!



Condition:

(10/10) New unused, no marks or decoloration on the external plastic casing. There are some decoloration in the varnish of the internal metal case, probably due to storage conditions, the same in both machines.
> Powered up and aparently in good working order. All keyboard keys and all leds are responsive.


Some advertisements of the Sanyo ICC-1681PT and ICC-1682PT I found on the web, click on the thumbnail.
Credits of the advertisements:

Images 1 and 2: Dentaku Museum, Japan, www.dentaku-museum.com.

The japanese text in image 1 says (*):
>"The SACOM ICC-1681PT is a high quality and high performance equipment with 134 program steps, 8 memories and decision functions.
It also has a Card Reader system... you can input programs easily.
You can use this machine for mathematical education in High School, scientific calculation in Institutes and complicated sales statistics in the office."
(*) Translation kindly made by Mr. Shinichiro Osaki from the Dentaku Museum.


Image 3: Newspaper "La Vanguardia Española", Spain, october 1973.

"Sanyo, electronic calculators ...a whole program of solutions.
There are a few companies that can be considered "global", Sanyo is one of them. Its industrial, technical and commercial power covers five continents. And in each country, Sanyo does for its electronic calculators what nobody else can do: give them an authentic after-sales service. Our technical assistance laboratories in Spain, with specialized teams of electronics engineers, are part of Sanyo's worldwide network of official services.
ICC 1681PT. Electronic printer calculator with programming and minicomputer capacity."
Image 4: Newspaper "ABC" of Madrid, Spain, october 1974.

"Sanyo, global industrial and technological power. Electronic calculators.
Better product is not only better price! it is:
- Better technology
- Better design quality
- Better after-sales service
- Better customer service
- Better price
More than 30 models in catalog".
Pictures of my Sanyo ICC-1681PT (both and s/n 78100019 alone).
| | |
| --- | --- |
| Pictures taken with | |